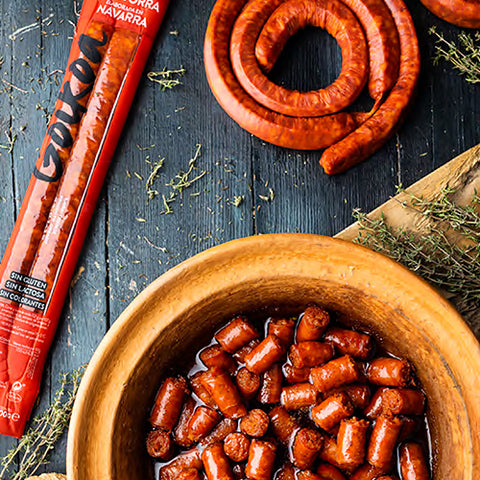 Goikoa "Chistorra" Uncooked Chorizo BBQ 200 g
IN STOCK
Goikoa's Chistorra Navarra
Chistorra is a type of fast-cure sausage originating from the Navarra and Basque regions of Spain.
Characterized by its thin and long shape, it's traditionally made from minced pork, garlic, and Spanish paprika.
Goikoa's Chistorra Navarra stays true to this tradition, offering an authentic taste experience in its slender, red packaging.
Gluten-free and without color additives, this product ensures both quality and authenticity. Ideal for grilling or frying, it's a staple in Spanish festivities and cuisine.
Pintxos de Chistorra with Roasted Peppers and Aioli
Ingredients:
1 pack of Goikoa "Chistorra" Uncooked Chorizo, cut into 4-inch pieces
1 baguette, sliced into 1-inch thick rounds
2 red bell peppers, roasted, peeled, and cut into strips
1 cup of aioli (garlic mayonnaise) or store-bought mayonnaise mixed with 2 minced garlic cloves
Olive oil, for frying
Fresh parsley, chopped (for garnish)
Instructions:
In a skillet, heat olive oil over medium heat. Add the Goikoa "Chistorra" pieces and cook until they're browned and slightly crispy, about 3-4 minutes on each side. Remove and set aside.
Toast the baguette slices until golden.
Spread aioli on each bread slice, then place a strip of roasted pepper and a piece of chistorra on top.
Garnish with parsley. Serve immediately.
Did you know?
The word "Chistorra" (or "Txistorra" in Basque) comes from the Basque word "Txistu", which means whistle. This name reflects its slender and elongated shape, similar to that of a whistle.