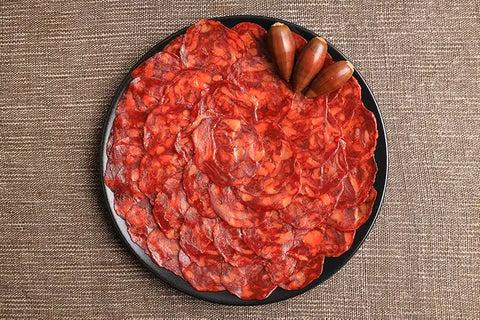 Iberian Acorn Sliced Chorizo 100g
IN STOCK
Iberian Acorn Sliced Chorizo is a delicious cured meat made from the Iberian breed of pig that has been raised in the Dehesa forests of Spain. The pigs are fed a diet of acorns, which gives the chorizo a unique and rich flavor. This product is perfect for those who enjoy the taste of traditional Spanish charcuterie.
Taste and Texture
The Iberian Acorn Sliced Chorizo has a rich, bold flavor that is slightly spicy and smoky. The meat is cured to perfection, creating a tender and juicy texture that melts in your mouth. The sliced format allows you to easily enjoy the chorizo without any additional preparation, making it a convenient option.
Usage and Pairing
Wine: Pair sliced chorizo with a glass of red wine, such as Tempranillo or Rioja, to enhance the rich and bold flavors of the meat.
Bread: Enjoy the chorizo with a slice of fresh bread or a baguette.
Olive oil: Drizzle some high-quality extra virgin olive oil over the chorizo to add a touch of richness and depth of flavor.