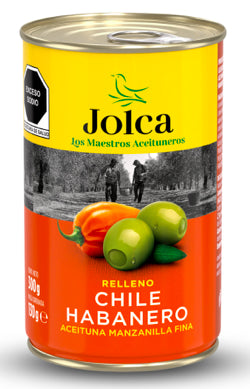 Jolca Chile Habanero Stuffed Olives 300 g
IN STOCK
Dive into the fiery flavors of Spain with Jolca Chile Habanero Stuffed Olives. This 300g can is filled with classic green olives, celebrated for their deep and vibrant taste. These olives are masterfully combined with chile habanero, infusing an intensely spicy kick to the ensemble.
Jolca, a distinguished brand in Spain, promises unparalleled quality in every container. The olives are abundantly stuffed with chile habanero, delivering a powerful heat that's sure to thrill spice enthusiasts. Their adaptability makes them excellent for indulging on their own or for adding a spicy touch to your beloved dishes.
Preserved in brine to retain optimal freshness, Jolca Chile Habanero Stuffed Olives offer the tantalizing sensations of Spain directly to your palate. Embrace the heat and savor the rich tradition of Spanish culinary arts with every fiery bite.