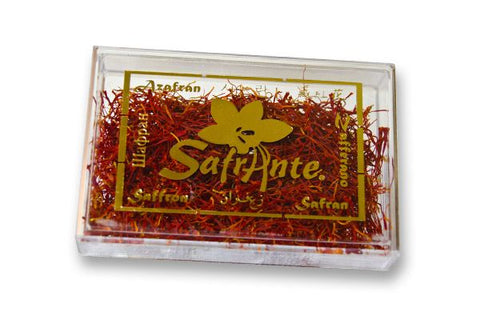 Safrante Saffron 1 g
IN STOCK
Safrante Saffron is a premium quality spice that comes in a 1-gram package. Saffron is the world's most expensive spice, and Safrante Saffron is known for its exceptional quality and purity. This saffron is sourced from the finest farms in the world, and it is carefully harvested and processed to ensure that it maintains its rich color, flavor, and aroma.
Safrante Saffron is highly sought after for its unique flavor and aroma, which adds depth and complexity to a wide range of dishes. It has a sweet, floral flavor with hints of honey and a slightly bitter aftertaste. Its aroma is earthy, with notes of hay and a hint of honey.
This 1-gram package is perfect for those who want to try out the spice for the first time or for those who use saffron sparingly. The package is resealable, ensuring that the saffron stays fresh and flavorful for a long time. Whether you are cooking up a traditional Spanish paella, an Indian biryani, or any other dish that requires the use of saffron, Safrante Saffron is the perfect choice for adding a touch of luxury to your meals.
Freeze-dried saffron
Lasting aroma and fragrance
Health benefits include aiding in digestion and increasing stamina
Said to relieve pain during a menstrual cycle