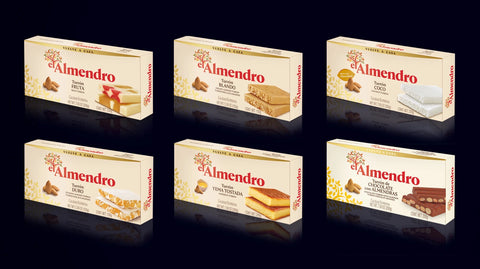 El Almendro Turrón Tasting Collection
IN STOCK
$34.00
$39.00
you save $5.00
Introducing the El Almendro Turrón Tasting Collection, a delightful assortment of delicious Spanish nougat treats. This special bundle offers a unique opportunity to explore a variety of traditional turrón flavors at an unbeatable value compared to purchasing them individually. Enjoy the diverse textures and tastes of Spain's beloved confections, perfect for sharing with friends and family or indulging on your own.
The Turrón Tasting Collection includes:
Fruit Turrón 200 g : A colorful and flavorful combination of dried fruits and nuts, expertly blended into a delectable nougat.

Soft Turrón 150 g: A classic Spanish treat, this smooth and velvety almond nougat boasts a rich, melt-in-your-mouth texture.

Coconut Turrón 250 g: A tropical twist on traditional turrón, featuring sweet and fragrant coconut combined with a luscious nougat base.

Hard Turrón 150 g: A true Spanish classic, this crunchy almond nougat offers a satisfying bite and a delightful contrast to the softer varieties.

Toasted Yolk Turrón 200 g: An indulgent and unique turrón made with sweet, caramelized egg yolk for a truly irresistible taste.

Chocolate with Almonds Turrón 200 g: A perfect marriage of velvety chocolate and crunchy almonds, creating a mouthwatering delight for chocolate lovers.
Each product in the Turrón Tasting Collection comes from El Almendro, a renowned brand known for its commitment to quality and tradition. Immerse yourself in the sweet flavors of Spain with this exquisite assortment of turrón masterpieces.