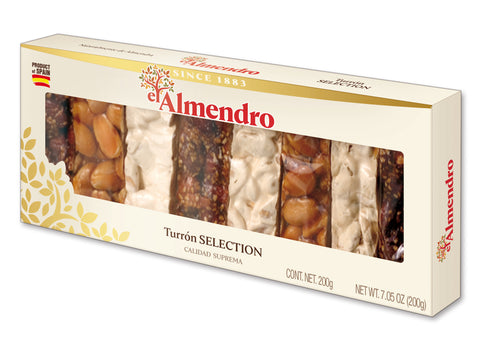 El Almendro Turron Selection 200 g
IN STOCK
Savor the flavors of Spanish confectionery with the El Almendro Turron Selection, a collection of carefully curated turron bars. This 200g selection brings you a variety of flavors to cater to every taste bud.
Included in the selection are almond caramel, crunchy almond, and almond crocanti turron bars. Each type offers a unique texture and flavor profile that showcases the versatility and richness of almonds in Spanish sweets.
The almond caramel turron bar blends the sweet, buttery flavor of caramel with the nutty richness of almonds for an indulgent treat. The crunchy almond turron bar offers a satisfyingly hard texture that almond lovers will relish. Lastly, the almond crocanti turron bar presents a delightful mix of almonds and crispy caramelized sugar for a unique texture and a burst of sweetness.
Notably, the El Almendro Turron Selection is a gluten-free product that contains no palm oil, making it a healthier choice for a snack or dessert. It's a testament to the commitment of El Almendro to deliver high-quality, enjoyable, and guilt-free treats.
Whether you're searching for a delectable dessert, a wholesome snack, or a memorable gift, the El Almendro Turron Selection is an excellent choice. Enjoy the taste of authentic Spanish confectionery right from the comfort of your home.
Spanish Turrón Delights
Experience the Rich Flavors of Spain with Our Traditional Turrón Selection