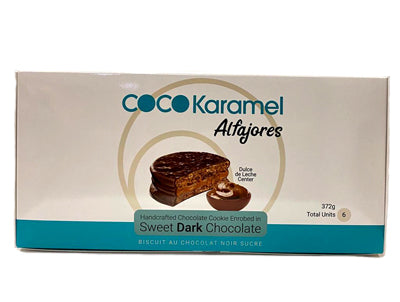 Coco Karamel Gourmet Filled Alfajor - 12 Units
IN STOCK
Experience a taste of Argentina right here in Canada with Coco Karamel's Gourmet Filled Alfajores. These heavenly treats are handcrafted with utmost care, ensuring each bite transports you to the beautiful landscapes of Argentina.
Each box comes with 12 scrumptious Alfajores. Immerse yourself in the creamy, dulce de leche filled center that's enveloped within two light and crumbly cookies, providing an irresistible blend of textures. All of our alfajores are dusted with a light coat of sugar, adding a delightful crunch.
We have three irresistible flavors for you to enjoy:
Traditional: This classic Alfajor will take you on a gastronomical journey. A traditional delight with the perfect blend of melt-in-your-mouth cookies and luscious dulce de leche filling, it's a true testament to Argentina's beloved dessert.

Dark Chocolate: A chocoholic's dream, our Dark Chocolate Alfajor wraps the dulce de leche filled cookie in a decadent layer of rich, dark chocolate. Its bittersweet flavor provides the perfect counterbalance to the sweet, creamy filling within.

White Chocolate: For those who prefer a sweeter experience, our White Chocolate Alfajor offers a delicious twist. With a creamy white chocolate shell, it provides an extra layer of sweetness that perfectly complements the indulgent dulce de leche filling.
Experience the authentic flavor of Argentinian alfajores with Coco Karamel. Whether you're an Alfajor aficionado or a curious foodie, these delicious treats are sure to delight. Perfect for sharing with family and friends or indulging on your own, our 12-unit boxes ensure you can savor the flavor whenever the craving strikes. Order yours today, and embark on an unforgettable culinary journey!
Experience Argentina in Canada, authentically.