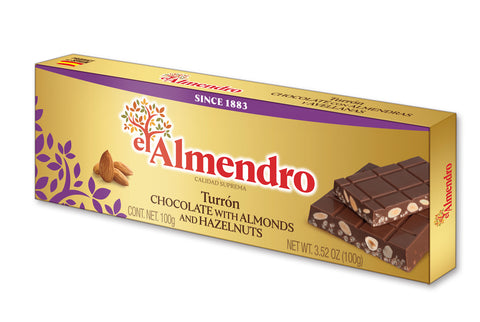 🏆 Celebrating Spain's Win!
Join the celebration! Dive into the flavor of victory with our limited-time offer. Enjoy 50% off nougats.
Discount automatically applied when added to cart!
El Almendro Chocolate Hazelnut & Almond Turron 100 g
El Almendro Crunchy Hazelnut & Almond Turron is a traditional Spanish nougat made with premium quality almonds and hazelnuts. It is a crunchy treat that is perfect for snacking or as a dessert.
This turron is made with a blend of roasted almonds and hazelnuts that are mixed with caramelized sugar to create a delicious and crunchy texture. It is then formed into a block and wrapped in a protective foil packaging to ensure freshness.
The 100g package is a convenient size for enjoying as a small indulgence or for sharing with friends and family. It is also a great option for gift-giving during the holiday season or as a souvenir from a trip to Spain.
Overall, El Almendro Crunchy Hazelnut & Almond Turron is a delicious and satisfying treat that is sure to please anyone with a sweet tooth.
Spanish Turrón Delights
Experience the Rich Flavors of Spain with Our Traditional Turrón Selection