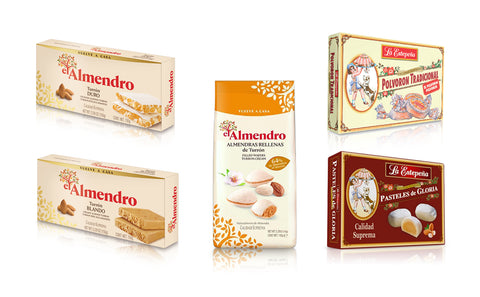 Discover the magic of traditional Spanish confectionery with this luxurious assortment of turrones and polvorones. Perfect for sharing with friends and family or indulging in a sweet treat yourself, our Festive Sweets Pack is a treasure trove of holiday flavors.
This exclusive bundle includes:
El Almendro Duro Almond Turron (150g)
A traditional Spanish Christmas treat, this hard nougat is made with whole almonds for a satisfying crunch that pairs beautifully with the sweet honey base.
La Estepeña Traditional Polvoron (250g)
Crafted following a time-honored recipe, these classic shortbread cookies are delightfully crumbly and packed with the subtle flavor of toasted flour and almonds.
El Almendro Creamy Almond Turron Blando (150g)
A softer take on traditional turron, this creamy almond nougat is a luscious treat that melts in your mouth.
El Almendro Creamy Turron-Filled Wafers (150g)
These delightful wafers are generously filled with creamy turron for a sweet surprise with each bite.
La Estepeña Pastel De Gloria filled with Cream (250g)
A glorious treat made of tender marzipan dough filled with a sweet and creamy filling.
All our products are crafted with love and tradition, making them the perfect addition to your holiday celebrations. Experience the authentic taste of a Spanish Christmas with our Festive Sweets Pack!
Spanish Turrón Delights
Experience the Rich Flavors of Spain with Our Traditional Turrón Selection