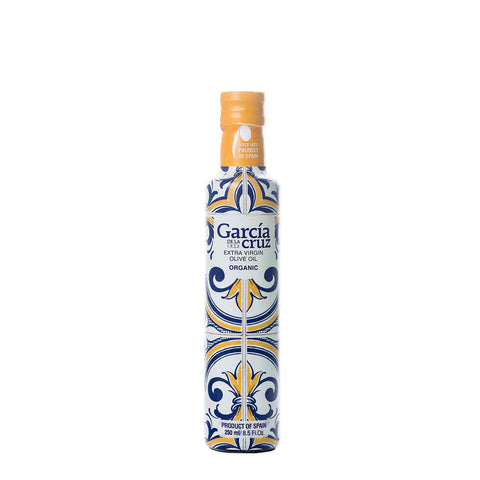 Garcia De La Cruz Extra Virgin Organic Olive Oil 250 ml
IN STOCK
$8.00
$10.00
you save $2.00
Garcia De La Cruz Extra Virgin Organic Olive Oil is a high-quality olive oil made from organically grown olives. The oil is produced using traditional methods and is cold-pressed to retain its full flavor and nutritional value.
Olive Cultivation
Garcia De La Cruz uses organic farming techniques to cultivate its olives, which means that no synthetic pesticides, herbicides, or fertilizers are used. The olives are grown in the sunny and dry region of La Mancha in central Spain, which is known for producing high-quality olives.
Harvesting
The olives are harvested by hand or with the use of mechanical shakers, which gently remove the olives from the trees. The olives are then carefully sorted to remove any damaged or unripe fruit
Cold Pressing
The olives are pressed using a traditional cold-pressing technique, which involves crushing the olives and extracting the oil without the use of heat or chemicals. This helps to preserve the natural flavors and nutrients of the olive oil.
The 250ml bottle of Garcia De La Cruz Extra Virgin Organic Olive Oil is perfect for those who want to try this premium olive oil or for those who want a small amount of high-quality oil for cooking or drizzling over salads and other dishes.