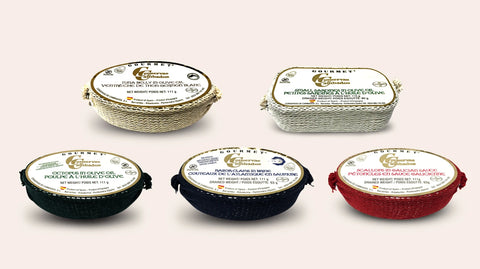 Gourmet Seafood Pack from Conservas de Cambados
IN STOCK
$56.00
$64.00
you save $8.00
Introducing our exquisite Gourmet Seafood Pack from Conservas de Cambados, featuring a delightful selection of premium Spanish seafood delicacies. This specially curated bundle offers a unique and authentic taste of Spain, perfect for indulging your senses and sharing with friends and family.
The Gourmet Seafood Pack includes:
Octopus in Olive Oil: Tender, succulent octopus pieces marinated in a high-quality Spanish olive oil for a rich and flavorful experience.

Razor Clams in Brine: Delicately preserved razor clams in a savory brine, showcasing their natural, ocean-fresh taste.

Sardinillas in Olive Oil: These small, tender sardines are packed in a luxurious olive oil, enhancing their natural, buttery flavor.

Scallops in Galician Sauce: A regional delight, these juicy scallops are bathed in a traditional Galician sauce made with tomatoes, onions, and a touch of paprika.

Tuna Belly in Olive Oil: Indulge in the most prized cut of tuna, the rich and velvety belly, expertly preserved in a fine olive oil for an unforgettable taste.
By purchasing this Gourmet Seafood Pack, you'll enjoy a better value compared to buying each item individually. Each product in the pack comes from Conservas de Cambados, a renowned brand known for its commitment to quality and gourmet taste. Experience the finest flavors of Spain in the comfort of your home with this delectable assortment of seafood treasures.