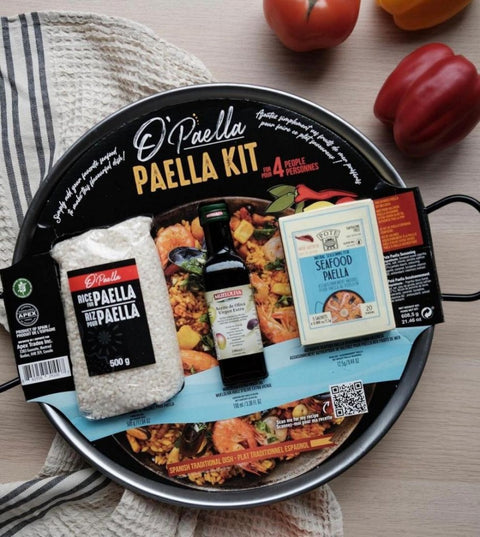 Spanish Paella Kit - 34cm Pan & Essential Ingredients
IN STOCK
$31.00
$47.00
you save $16.00
Experience the true flavors of Spain with our Authentic Spanish Paella Cooking Kit. This all-in-one kit gives you all the essential ingredients and tools you need to create an authentic, mouthwatering paella in your own kitchen. Whether you're an experienced home cook or just starting out, our kit makes it easy to prepare a traditional Spanish feast.
Our kit includes:
A 34cm steel paella pan: The traditional, high-quality steel pan ensures even heat distribution and a deliciously crispy socarrat (the prized crispy rice crust) at the bottom. Its generous size is perfect for serving 4-6 people.

Spanish Rice (500 g): Sourced from the rich fields of Spain, this short-grain rice absorbs flavors beautifully, resulting in a tender and creamy texture - a must for the perfect paella.

Extra Virgin Olive Oil (100ml): Spanish cuisine would be incomplete without this gold standard ingredient. Our extra virgin olive oil, rich in antioxidants, imparts a smooth, fruity note to your paella.

Paella Spice Mix: We've done the work of blending the ideal mix of saffron, paprika, and other aromatic spices to lend your paella the traditional, tantalizing taste that Spain is famous for.
Also included is an easy-to-follow recipe, so even the uninitiated can embark on a culinary adventure straight out of Valencia. All you'll need to add is your favorite protein and vegetables.
Bring a piece of Spain to your table with our Authentic Spanish Paella Cooking Kit. It's not just a meal, it's an experience!